[ad_1]
American Yacht Club Fall Regatta 2021 – Days 1 & 2
by American Yacht Club Sep 27 11:16 PM UTC
September 25-26 & October 2-3, 2021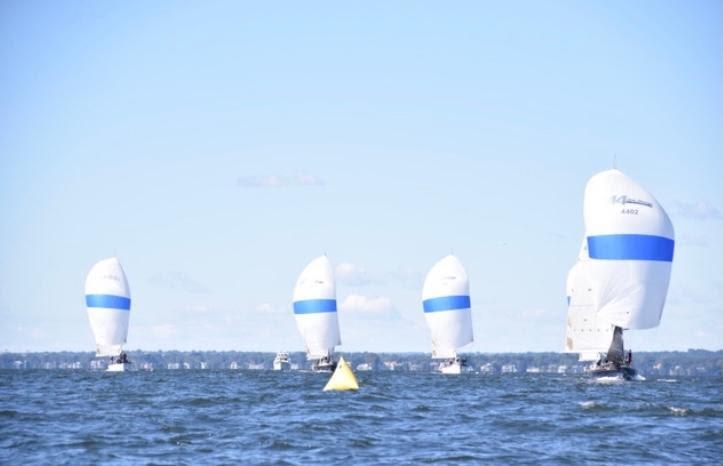 American Yacht Club Fall Regatta 2021 © American Yacht Club
The 31st Annual American Yacht Club Fall Regatta began with an afternoon of racing in a light breeze, followed by a reunion of sailors and old friends who reunited after not seeing each other since. 2019. With the option of choosing between 10:55 am or 12:55 pm for the first warning signal. , the race committee opted for a later start time based on forecasts and made the announcement the day before the race. This allowed the competitors to spend more time with their families, get ready for the race, or just relax on Saturday mornings.
On day one, the south course was able to complete one race and the east course finished two. Sunday winds were still favorable at 15 knots with good sailing conditions, offsetting the lighter breeze on Saturday.
At the end of day one, former AYC commodore William Ketcham on Maxine (AYC) held the lead in the One Design J 44 races with two balls, an impressive four points better than any other boat in this division on the course is. Maxine was able to maintain her lead until Day 2 with almost all the balls. Commodore Thomas Blackwell on Breakaway (AYC) gained ground between Day 1 and Day 2 and now sits second in that division.
Justin Scagnelli and Tim Price on Albondigas (HYC) and Lawrence Cutler and Andrew Weiss on One Too Many (STC) lead the J 88 class on the south course, currently tied at 9 points. Robert & Libby Alexander on Byte (AYC) and Vlad Shablinsky and Sam Wright on Group 5 (NEKA) are also tied in the ORC in doubles and both finish the weekend with 3 points each.
With all of these tight results so far, more races in weekend 2 are eagerly awaited.
The weather on Saturday turned out to be perfect for the AYC to host the post-race Rocking Regatta party on the flagpole lawn. Everyone enjoyed a musical performance by local band Cover Story, lawn games, free beer donated by Doyle Sails and Carpentry Classics, craft beer tastings featuring the top two contenders for the AYC Ale vote and the bar and lounge. AYC x Chandon Garden Spritz. Post-race gatherings will be held after each race day during the fall regatta, ensuring lots of socialization and fun for competitors and spectators.
Everyone enjoyed the long-awaited return of the post-race nights at AYC after the 2020 break in such a relaxed and welcoming way. Next week's post-race gatherings will include a free tasting of Saugatuck-based TUCK Gin as well as the awards ceremony.
Details of the event can be found at: yachtscoring.com/emenu.cfm?eid=14292
Results: (the first three of each class)
Race on the East course
J 44 (One Design – 7 Boats)
1. Maxine, William Ketcham – 1, 1, 1, 2, 1 [6]
2. Breakaway, Thomas Blackwell – 4, 3, 4, 1, 2 [14]
3. Glory, Lincoln White – 3, 5, 2, 3, 3 [16]
ORC Division (ORC fleet – 9 boats)
1. Zammermoos, David Fass – 1, 3, 1, 1, 4 [10]
2. Cool Breeze, John Cooper – 2, 1, 4, 3, 2 [12]
3. Gemini II – James Coffman – 3, 4, 2.5, 2, 5 [16.5]
ORC Division (Double – 3 boats)
1. Byte (ORC Mixte Double Hand), Robert & Libby Alexander – 2, 1 [3]
2.Group 5, Vlad Shablinsky / Sam Wright – 1, 2 [3]
3. Hotspur, Rich Jessop – 4 / DNC, 4 / DNC [8]
PHRF Division (Coastal PHRF Division I – 9 boats)
1. Tenebrae, William Ingraham – 1, 1 [2]
2. Cougar, Leonard Sitar – 3, 2 [5]
3. Antidote (PHRF Plus One), Ron Richman – 2, 3 [5]
PHRF Division (Coastal PHRF Division II – 11 boats)
1. Crazy Train, Patrick Cole – 2, 3 [5]
2. Thin man, Todd Aven – 5, 1 [6]
3. Upset, Jason Viseltear – 4, 4 [8]
Race on the south course
J 109 (Division One Design – 8 boats)
1. Growth Spur, John Greifzu, Jr. – 1, 4, 2, 1 [8]
2. Arsonist, Trevor Roach – 2, 2 3, 2 [9]
3. Emoticon, Jonathan Rechtschaffer – 3, 3, 4, 3 [13]
J 88 (Division One Design – 5 boats)
1. Albondigas, Justin Scagnelli / Tim Price – 2, 1, 3, 3 [9]
2. One too many, Lawrence Cutler / Andrew Weiss – 3, 2, 2, 2, [9]
3. Oh my God !!, Nicolas Delcourt -1, 4, 4, 1 [10]
J 105 (Division One Design – 8 boats)
1.loulou, Paul Beaudin – 4, 1, 1, 1 [7]
2. LauraBea, Max Kalehoff – 3, 5, 2, 2 [12]
3. Ataraxis, Frank Latawiec – 1, 4, 3, 5
J 70 (Division One Design – 4 boats)
1. Segal pen, Jean marc Papin – 1, 1, 1, 1 [4]
2. Half-mine II, Gibbons Sinclair – 2, 2, 2, 2 [8]
3. Neka J / 70 – Benjamin Hunt – 5 / DNC, 5 / DNC, 5 / DNC, 5 / DNC [20]
[ad_2]