Original Cottages B14 Euros/Nats 2022 at Whitstable Yacht Club – Guide Form
by Mark Barnes Aug 31 13:00 UTC
September 1-4, 2022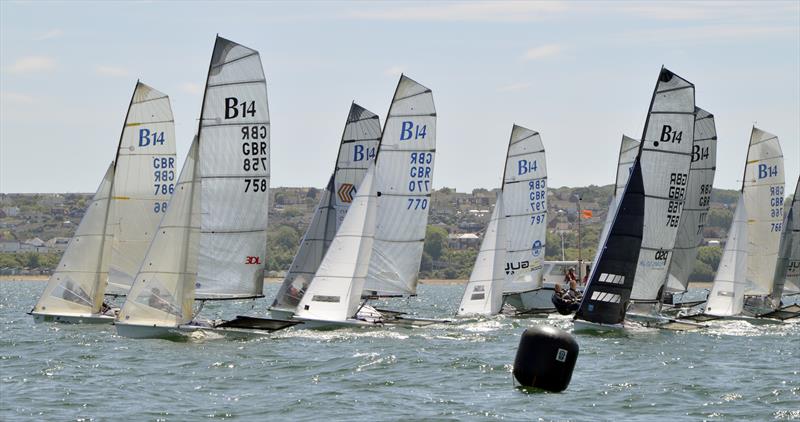 2019 GUL B14 TT Round 3 at Whitstable © Nick Champion / www.championmarinephotography.co.uk

The B14s return to Whitstable on Thursday 1st September for the combined Original Cottages (Kent & Sussex) B14 Euros/Nats event. The Euros will consist of 12 races over 4 days and the Nats from Friday to Sunday will consist of 9 races.
The forecast appears to be mixed with the strongest breeze on Predictwind on Thursday, with the next 3 days looking like a possible recipe for snakes and ladders, giving the middle order a chance to shine.
The numbers are down this year as a number of loyal teams still don't travel, but others are coming out of the woodwork.
This year will be interesting with the return of World Champions Nick Craig/Toby Lewis to Team Harken, and the briefing team of last year's National Champions Mark Barnes/Charlotte Horlock to Team Seavolution/North Sails now having Char on maternity leave. Thus, the form of these two teams will be unknown, with several other teams training quietly.
Team Harken: Nick Craig/Toby Lewis – GBR 796 – Seavolution hull, North sails. Current world champions, but absent from the fleet last year in pursuit of other championships, they are making a comeback this year. Since their last game with Seavolution/North Sails, the only thing that is the same with their main protagonist is Barnsie as the GBR 799 was new last year and has all the latest tweaks. So it could be a grand game of chess with Harken strong in full breeze and the latter a master of snakes and ladders. Hopefully these two will be inseparable until the last race. Solid 2/1 podium.
Seavolution/North Sails: Mark Barnes (Barnsie)/Kathy Sherret sailing GBR 799 – Seavolution hull, North sails. Long before the event before Char's resignation, when he took part he had only lost 2 races since last year's Nationals. As current National Champions, all looked forward to the showdown with Team Harken as it often went down to the last race between these two teams, but on this occasion with Kathy stepping up, the way this team will gel will be the unknown factor, but if on the song, must be one for the podium. 3/1.
Blue badge: Mike Bees (Beezer)/Martin Worth (Ferret) sailing on GBR 771 – Ovington hull, North Sails. Brightlingsea's time machine, which continues to push back the twilight on the road. Beezer returns with ever loyal crew Ferret is definitely one of the contenders and but for a top 2 OCS last year, and was a winner in 2022. Rumor has it they practiced. So over the entire wind range they should be a shoehorn for the podium. 5/1.
Brightmile: Mark Watts (Wattsy)/Matt Johnson (MJ) sailing the GBR 797 – Seavolution hull, North sails. Finally, these guys finished 2nd in the Nationals. Preferring stronger winds, they should be strong on Thursday and look to improve their form in the light winds. They will certainly be there and one of the teams for the podium. 5/1.
Porky's Revenge: Dave Hayes/Pete (pistol) Nicholson sailing GBR 774 – Ovington hull, North sails. A team that has won all national B14 trophies individually, but not as a team. Fast in all conditions and looking to correct that, will all of their race training this year in their Merlin Rockets help them put this one in the bag. But for an OCS last year, they would have been on the podium at nationals. 5/1.
Dads on Tour (DOT (Josh/Matt Hollis)): Josh Wilce/Matt Hollis – Seavolution hull, P&B sails. Josh needs no introduction in the B14 world as one half of the recent Trunky team with Kathy Sherret, now partnered with Matt Hollis, and the ride has taken off. On Thursday they should shine and as the breeze softens it will be interesting to see where they land but as pond sailors they should do well. Maybe on the podium. 6/1.
Team Asbo: Crispin Taylor (Crispy)/Guy Harroll (Gi) sailing GBR 789 – Seavolution hull, North sails. This team has put in the miles and trained this year. Still, to get on the podium, they go faster in the lighter, but have been known to occasionally get a quicker top-3 result. They have all the pieces in place, so they could shine this time around. To monitor. 8/1.
Asbo Rides Again: Russ Gibbs/Lucy Loughton sailing the GBR 762 – Ovington hull, North Sails. Last year was their first National B14 Championship and they signed by winning the last race. They are getting faster and will knock on the door in some races. One of the teams to bet on to upset the higher order. 8/1
The current forecast is Force 4 with gusty NE Thursday, with a lighter mixed directional breeze over the next three days. It will be interesting to see who gets the bragging rights at the end of the race. No doubt there are teams not on this list that will be there in the mix at the end. One thing's for sure, he'll probably go over the wire with the Fat Lady singing on The Swale on the way home.
Daily reports will be on YachtsandYachting.com