The gunboat exhibited at the Cannes Yachting Festival
by Gunboat Jul 23 15:37 UTC
September 6-11, 2022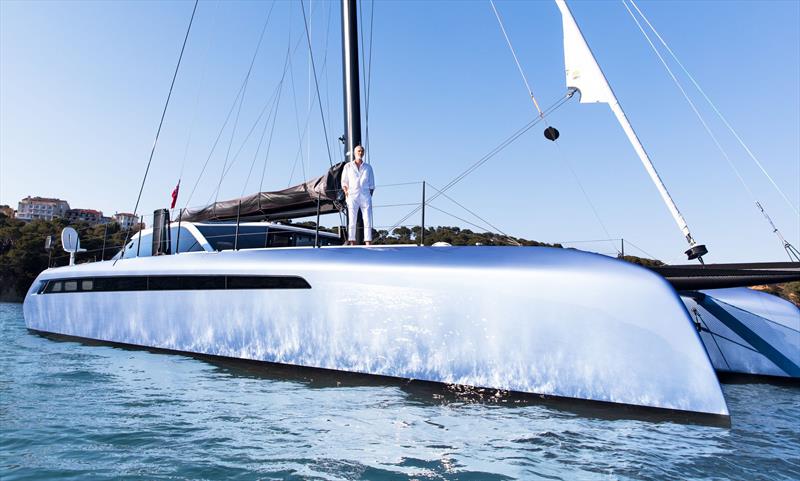 Gunboat 68 © Gunboat

We are pleased to announce that the Gunboat 68 BreakFree will be exhibited in the Espace Voile Port Canto of the Cannes Yachting Festival 2022!
Passengers interested in sales or media are encouraged to pre-book a boarding time.
In the meantime, take a closer look on board with Quentin Mayerat, Loïck Peyron and Benoit Lebizay in this sea trial video / interview by Skippers Magazine:

Photo of navigation in a gunboat integrated into the Visual Identity of the Yachting Festival de Cannes 2022
This year, we are honored to see the Gunboat 68 chosen as one of the three yachts included in the artwork of the event, to convey the visual identity of the show! For their artistic adaptation, the Cannes Yachting Festival has selected a drone photo by Patrick Condy featuring TOSCA under full sail during a Transatlantic.
"For 2022, the Yachting Festival unveils a new glamorous visual identity, which is a continuation while highlighting three representative units of the show: a superyacht, a catamaran sailboat and a dayboat. This new creation retains the main characteristics of the show's DNA: elegance, clean lines, calm sea, horizon and lifestyle that inspire navigation. This new design also features a couple sharing a wonderful moment in an incredible setting. The Yachting Festival is a showcase for the jewels of the seas, highlighting the unique skills and artisans of shipbuilding. It allows everyone, sea lovers, yachting enthusiasts, seasoned visitors or simply curious, to discover a universe, in an idyllic setting emblematic of the Côte d'Azur.
"We are delighted to unveil our new image and to have succeeded in illustrating both the innumerable assets of the Yachting Festival and the atmosphere of the show which seems simply magical to me. The exhibitors and visitors present alongside us last year were able to feel the special atmosphere as much as we could.Despite a difficult sanitary context, we all took real pleasure in getting together and seeing boats "in real life" rather than online! with more than 54,000 visitors who came to admire 110 new boats between 10 and 35 meters on the Espace Voile, more than 480 motor boats between 5 and 45 meters on the Old Port, and of course second-hand boats over 22 meters exposed afloat on the Espace Yacht Brokerage.Discover the new Innovation Space for "intelligent" nautical start-ups, as well as more than 50 exhibitors presenting an environmentally friendly concept with the new "Route Verte". object tif for 2022 is both to extend the offer of the show and to give more visibility to eco-responsible approaches, new technologies and luxury in the most noble way possible", explains Sylvie Ernoult, Director of Yachting Festival.